Coastal Activities
Think paradise island escape!
Picture magnificent un-spoilt cliffs which are pounded by surf, to tranquil coves with glorious expanses of white sand, to secluded rocky estuaries - this beautiful island coastline has is all and more!
The possibilities for recreation are as equally diverse for swimmers, surfers, fishermen, wreck-divers, snorkelers, seafarers and wildlife lovers and of course people who simply love to feel sand between their toes, they all relish the Island fringes.
TASTING TOURS...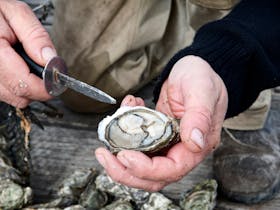 American River Experiences
44 Tangara Drive American River SA 5221
Telephone 0885537122
American River Experiences
American River
We are creating experiences for visitors that are unique and authentic to Kangaroo Island. There is always something local, sustainable and delicious to taste when you have an experience with us. Kangaroo Island Shellfish is located on the wharf at American River on Kangaroo Island - the home of...
Product does not exist!
(Wrong Product ID)
OCEAN EXPERIENCES...
Kangaroo Island Marine Adventures
Hamilton Drive Emu Bay SA 5223
Telephone 0885533227
Kangaroo Island Marine Adventures
Emu Bay
Kangaroo island marine adventures are the dolphin swim specialists in South Australia & Kangaroo Island and have been offering visitors a unique marine wildlife experiences for more than 15 years . We are often referred to as the best wild dolphin swim experience in Australia. We operate all...
FISHING CHARTERS...
Emu Bay Fishing Charters
Hamilton Drive Emu Bay SA 5223
Telephone 0428996447
Emu Bay Fishing Charters
Emu Bay
Kangaroo Island's premier fishing charter, based on the North coast. We leave from Emu Bay and offer a range of charters to suit all abilities and budgets. All are welcome, novice or experienced and all ice, bait and tackle is provided and you keep your fish at the end of the day. Your skipper has...
Search & Book Accommodation
CLICK HERE to send a message to the
Kangaroo Island Tourism Alliance