Coastal Activities
Think paradise island escape!
Picture magnificent un-spoilt cliffs which are pounded by surf to tranquil coves with glorious expanses of sand to secluded rocky estuaries - this beautiful island coastline has is all and more!
The possibilities for recreation are as equally diverse for swimmers, surfers, fishermen, wreck-divers, snorkelers, seafarers and wildlife lovers and of course people who simply love to feel sand between their toes, they all relish the Island fringes.
Need more information or wish to do a booking, please contact:
Kangaroo Island Gateway Visitor Information Centre
Phone: +61 8 8553 1185 or Toll Free: 1800 811 080

OCEAN EXPERIENCES...
Kangaroo Island Marine Adventures
Kingscote Terrace Kingscote SA 5223
Telephone 0885533227
Kangaroo Island Marine Adventures
Kingscote
Kangaroo island marine adventures are the dolphin swim specialists in South Australia & kangaroo island and have been offering visitors a unique marine wildlife experiences for more than 12 years . Often referred to as the best wild dolphin swim experience in Australia. we operate all over...
Kangaroo Island Ocean Safari
4 North Terrace Penneshaw SA 5222
Telephone 0419772175
Kangaroo Island Ocean Safari
Penneshaw
Kangaroo Island Ocean Safari offers 2 different tour opportunities. 2 hour SWIM with dolphin / seal / coastal snorkelling - departs at 12 daily. Have the opportunity to swim with wild dolphins or among seals and snorkel some of KI's beautiful coastline in Penneshaw. Cost is $150 per adult and $90...
FISHING CHARTERS...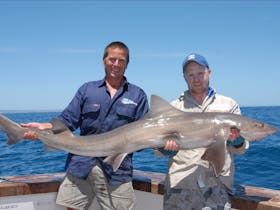 Emu Bay Fishing Charters
Emu Bay Jetty Emu Bay SA 5223
Telephone 0428996447
Emu Bay Fishing Charters
Emu Bay
Kangaroo Island's premier fishing charter, based on the North coast we leave from Emu Bay and offer a range of charters to suit all abilities. We have various options, to suit ability and budgets. All are welcome, novice or experienced and all ice, bait and tackle is provided and you keep your...
Search & Book Accommodation

Kangaroo Island Gateway
Visitor Information Centre
PLEASE NOTE: Our Visitor Information Centre is temporarily closed. Please call the Toll Free number below if you require information. You can also contact us by filling out the form below. Our friendly staff at Kangaroo Island's only Accredited Visitor Information Centre will help you customise an itinerary as unique as you are to get the most from your time on Kangaroo Island.
Kangaroo Island Gateway Visitor Information Centre - Howard Drive, PENNESHAW SA 5222