Adventure activities
For those who love to get out and about, Kangaroo island has an adventure to suit everyones pace!
With a plethora of activities from the extreem quad biking and sandboarding, to the more subdued kayaking, bike riding, shearing demonstrations, horse riding and more, Kangaroo Island has activities which will ensure your holiday is an experience to remember.
Get off the beaten track on an adventure tour and explore less traveled destinations.
No matter what interests you, there's always something to do, that will suit all ages and fitness levels.
FOR THE EXTREEM ADVENTURER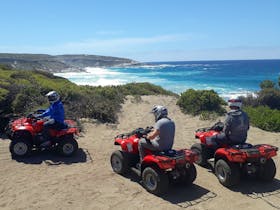 Kangaroo Island Outdoor Action
188 Jetty Road Vivonne Bay SA 5223
Telephone 0885594296
Kangaroo Island Outdoor Action
Vivonne Bay
Kangaroo Island Outdoor Action offers fun nature-based adventures for all ages to enjoy! Activities range from exhilarating quad bike, buggy and fat bike tours, and family favourite sandboarding/tobogganing, to serene flat-water kayaking. Observe and learn about the island's unique flora and...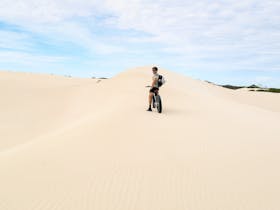 Little Sahara Adventure Centre
3733 South Coast Road Vivonne Bay SA 5223
Telephone 0885594224
Little Sahara Adventure Centre
Vivonne Bay
Explore the beauty and excitement that Little Sahara natural inland sand dunes has to offer! This incredibly unique site is known as Nature's Playground as it's great fun for the kids and the kids at heart! Surf the dunes like a pro on a sandboard or just sit down, hang on and slide on toboggans!...
Kelly Hill Caves
Karatta SA 5223
Telephone 0885534464
Kelly Hill Caves
Karatta
Due to bush fire activity in January 2020 on Kangaroo Island this attraction is now closed until further notice. There are many other things to see and do on Kangaroo Island - check out www.southaustralia.com or www.tourkangarooisland.com for suggestions! Discover the magical underground world of...
ACTIVITIES AT YOUR LEISURE
Kangaroo Island Living Honey
172 Florance Road Haines SA 5223
Telephone 0427189388
Kangaroo Island Living Honey
Haines
Kangaroo Island Living Honey is a small family run business. We currently have approx 200 productive hives, and on a good year we extract up to 20 ton of Organic honey. Some of these hives will be on the farm. Our Aim is to produce products of the highest standard and as natural as possible....
Rebuild Independence Project
The Wharf, Tangara Drive American River SA 5221
Telephone 0403443323
Rebuild Independence Project
American River
The Rebuild Independence Project is a volunteer group that is re-creating the first vessel ever built in South Australia - the 45ft United States Schooner "Independence." The original Schooner was built on the banks of an inlet, where now stands the town of American River. She was built by American...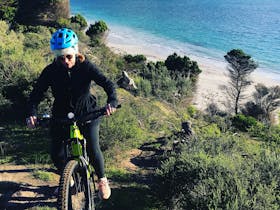 Kangaroo Island E-Mountain Bikes and Trails
2131 Cape Willoughby Road Willoughby SA 5222
Telephone 0427504588
Kangaroo Island E-Mountain Bikes and Trails
Willoughby
This family-run business offers guests the opportunity to explore 3500 acres of exclusive coastline, expansive native bush and farming land. The property is the oldest working farm in South Australia spreading from the north to the south coast. There are over 50 kilometres of nature trails,...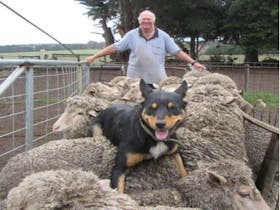 Rob's Shearing and Sheepdogs
550B Cape Willoughby Road Ironstone SA 5222
Telephone 0885531068
Rob's Shearing and Sheepdogs
Ironstone
Meet Rob and his Kelpie dogs, as they share this most Australian experience with visitors. Enjoy learning about the many aspects of farming in an educational and down to earth manner, including sheepdog mustering and yarding, sheep shearing, wool classing, hand spinning and history. Enjoy Rob's...
Search & Book Accommodation
CLICK HERE to send a message to the
Kangaroo Island Tourism Food Wine Beverage Association