Island art & culture
continue to be inspired by kangaroo island.....
With its remarkable profusion of wildlife and its unspoilt environment, Kangaroo Island is home to a disproportionately large art community. Nearly 10 percent of the Island's total population identify as members of the creative community and participate in visual art mediums, sculpture, craft, drama, music and writing.
Gallieries, studios and markets are where the natural environment and the arts meet to create powerful connections, some of which you may not want to leave without.
ART GALLERIES & JEWELLERY...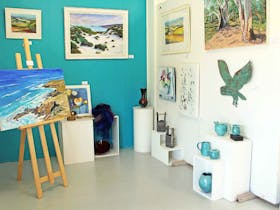 Artworks Gallery
Bessell Drive Baudin Beach SA 5222
Telephone 0885531381
Artworks Gallery
Baudin Beach
Artworks is a friendly, informal community gallery manned and run entirely by the artists themselves and volunteer members of the artists Collective KI Inc. The gallery is housed in an attractive open space building with light and airy display areas. The wide range of art and craft work for...
Fine Art Kangaroo Island
91 Dauncey Street Kingscote SA 5223
Telephone 0885530448
Fine Art Kangaroo Island
Kingscote
Fine Art Kangaroo Island showcases an exclusive blend of quality island inspired artwork. Beautiful and professional displays are lovingly curated in the historic renovated corner building. Don't forget to visit owner Fred Peters in his studio, and watch him create his beautiful silver jewellery....
Rustic Blue Gallery Cafe Day Spa
5149 South Coast Road Vivonne Bay SA 5223
Telephone 0885597371
Rustic Blue Gallery Cafe Day Spa
Vivonne Bay
Due to bush fire activity in January 2020 on Kangaroo Island this attraction is now closed until further notice. There are many other things to see and do on Kangaroo Island - check out our Travel Blog for suggestions! Rustic Blue Gallery was a former shearing shed, now a modern gallery space that...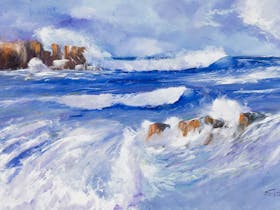 Sheps Studio Art Gallery
Bellmore Road Kingscote SA 5223
Telephone 0885532116
Sheps Studio Art Gallery
Kingscote
Sheps Studio Art Gallery showcases the artwork of Kangaroo Island artist, the late Neil Sheppard (alias Shep). Open by appointment. Closed Sundays. Seasonal Exhibitions held - see www.shepstudio.com.au/gallery Original paintings and Limited Edition fine art giclee reproductions are available...
FLORA PRODUCTS...
Product does not exist!
(Wrong Product ID)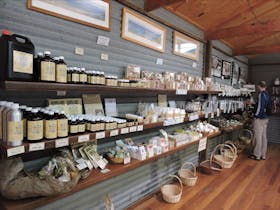 Emu Ridge Eucalyptus
691 Willsons Road Macgillivray SA 5223
Telephone 0885538228
Emu Ridge Eucalyptus
Macgillivray
Emu Ridge is a unique attraction where you can find out how a traditional Aussie bush product is made, they will show you the past and present process of eucalyptus oil distilling. Eucalyptus oil was Australia's first true export overseas and one of Kangaroo Islands major industries. Emu Ridge is...
Search & Book Accommodation
CLICK HERE to send a message to the
Kangaroo Island Tourism Food Wine Beverage Association