Kangaroo Island Events
Kangaroo Island doesn't hold events. It embraces them!
With festivals celebrating the Island's unique blend of arts, food, wine and community spirit!
The Island celebrates its very own art, food and wine in events, exhibitions and performances across the island, in galleries, cafes, shearing sheds, artists' studios and more. There are regular Farmers Markets and Island Community Markets as well as the annual Easter Art Exhibition and Kangaroo Island Art Feast.
Other festivals include the Kangaroo Island Planting Festival, The Gourmet Gallop, plus concerts, agricultural shows and gala days. Don't miss the SEALINK Kangaroo Island Cup Carnival - spread over two huge days of racing, the SEALINK Kangaroo Island Cup is fast becoming the Island's biggest party.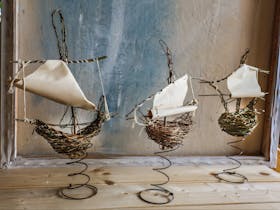 Kangaroo Island Easter Art Exhibition
99 Middle Terrace Penneshaw SA 5222
Telephone 0417832037
Kangaroo Island Easter Art Exhibition
Penneshaw
11 Apr 2020 ~ 19 Apr 2020
The KI Easter Art Exhibition is the largest, most diverse art show on an island which arguably hosts more artists and exhibitions per head of population than elsewhere in the state. This display of outstanding artworks from the island's many talented experienced and emerging art stars is a...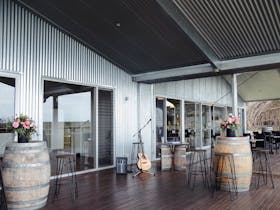 Sunday Vibes
1153 Cape Willoughby Road Cuttlefish Bay SA 5222
Telephone 0885531333
Sunday Vibes
Cuttlefish Bay
1 Jul 2018 ~ 5 Jun 2022
Dudley Wines Kangaroo Island hosts live music on the first Sunday of every month. Sunday Vibes is a great afternoon to relax with friends and enjoy tasty share platters, great music by local and SA musicians and Kangaroo Island wines all at our cliff top cellar door. Coinciding with the monthly...
Search & Book Accommodation
CLICK HERE to send a message to the
Kangaroo Island Tourism Food Wine Beverage Association