Kangaroo Island Events
Kangaroo Island doesn't hold events. It embraces them!
Kangaroo Island events are broad, with festivals that celebrate the Island's unique blend of food, wine, art and community spirit.
The Island celebrates its very own art, food and wine in events, exhibitions and performances across the island, in galleries, cafes, shearing sheds, artists' studios and more. There are regular Markets held in both Penneshaw and Kingscote, as well as the KI Easter Art Exhibition.
Other festivals include the Kangaroo Island Marathon and WILDRoo, and Bush Festival. The Sealink Kangaroo Island Cup Carnival is one not to be missed - spread over two huge days of racing, the Dudley Wines Kangaroo Island Cup is fast becoming the Island's biggest party.
GUTSY KANGAROO ISLAND
Gutsy Kangaroo Island
Various Locations Kingscote SA 5223
Gutsy Kangaroo Island
Kingscote
10 Jun 2022 ~ 13 Jun 2022
Come celebrate the determination and brilliance of the Island's producers at Gutsy Kangaroo Island. Join us this June Long Weekend for an unforgettable experience into Kangaroo Island's beverages. KI is bold, brave, and love to celebrate with grit their wine, spirits, cider, beer and food...
festivals AND MARATHONS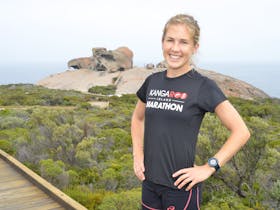 Kangaroo Island Marathon Running Festival
422 Cape Du Couedic Road Flinders Chase SA 5223
Telephone 0499811119
Kangaroo Island Marathon Running Festival
Flinders Chase
21 May 2022 ~ 21 May 2022
The Kangaroo Island Marathon Running Festival is held in the remote south-west corner of Flinders Chase National Park, and includes a 10K, half marathon and full marathon race option. Runners will be inspired by post-bushfire regenerating flora and fauna, undulating roads and trails, an exposed...
FOOD & WINE
Gastronomo The Enchanted Fig Tree
5995 North Coast Road Middle River SA 5223
Telephone 0885592236
Gastronomo The Enchanted Fig Tree
Middle River
Dine inside the majestic limbs and shimmering leaves of this extraordinary living venue – An enchanting fig tree that is over 120 years old. Once upon a time, long ago, a small fig tree sapling was planted. Now, 120 years later, its colossal gnarled limbs and its canopy of shimmering leaves have...
Sunday Vibes
1153 Cape Willoughby Road Cuttlefish Bay SA 5222
Telephone 0885531333
Sunday Vibes
Cuttlefish Bay
7 Nov 2021 ~ 1 Oct 2023
Dudley Wines Kangaroo Island hosts live music on the first Sunday of every month. Sunday Vibes is a great afternoon to relax with friends and enjoy tasty share platters, great music by local and SA musicians and Kangaroo Island wines all at our cliff top cellar door. Coinciding with the monthly...
MARKETS & EXHIBITIONS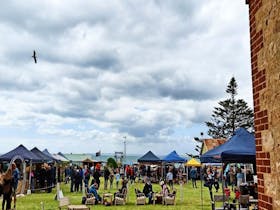 Kingscote Farmers and Artisan Market
16 Kingscote Terrace Kingscote SA 5223
Kingscote Farmers and Artisan Market
Kingscote
Shop, Eat, Drink, Chill at the Kingscote Farmers and Artisan Market which is held on every 2nd and 4th Sunday at Kingscote Wharf. Kingscote Farmers and Artisan Market showcases some of Kangaroo Island's Artisan producers, Art and crafts, produce and food in all shapes and forms! From bread, cakes...
Search & Book Accommodation
CLICK HERE to send a message to the
Kangaroo Island Tourism Alliance