Island Products
Art your life in Kangaroo Island…
If you are interested in visual arts, writers, wood-workers, silk painters, craft workers and weavers then Kangaroo Island is plentiful. Artists are lured to Kangaroo Island due the creative inspiration the environment procures with artistry emulating from the heart of the Island. Visit art galleries, studios and markets on Kangaroo Island where the natural environment and the Arts meet to create powerful illuminations, some of which… you may not want to leave without.
Need more information or wish to do a booking, please contact:
Kangaroo Island Gateway Visitor Information Centre
Phone: +61 8 8553 1185 or Toll Free: 1800 811 080

ART GALLERIES & JEWELLERY...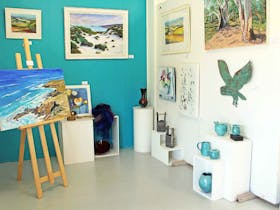 Artworks Gallery
Bessell Drive Baudin Beach SA 5222
Telephone 0885531381
Artworks Gallery
Baudin Beach
Artworks is a friendly, informal community gallery manned and run entirely by the artists themselves and volunteer members of the artists Collective KI Inc. The gallery is housed in an attractive open space building with light and airy display areas. The wide range of art and craft work for...
Australian Red Gum Gallery
5929A Playford Highway Duncan SA 5223
Telephone 0429201232
Australian Red Gum Gallery
Duncan
Australian Red Gum products are hand turned from Kangaroo Island timbers that were relics of huge trees that once graced the western end of Kangaroo Island in South Australia. Kangaroo Island artist Jon Gloyne puts life back into the swamp gum stumps by producing a product that is beautiful and...
Fine Art Kangaroo Island
91 Dauncey Street Kingscote SA 5223
Telephone 0885530448
Fine Art Kangaroo Island
Kingscote
Fine Art Kangaroo Island showcases an exclusive blend of quality island inspired artwork. Beautiful and professional displays are lovingly curated in the historic renovated corner building. Don't forget to visit owner Fred Peters in his studio, and watch him create his beautiful silver jewellery....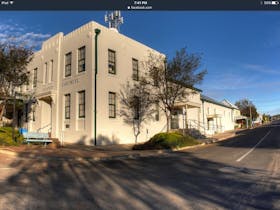 Kangaroo Island Gallery
1 Murray St Kingscote SA 5223
Telephone 0885532868
Kangaroo Island Gallery
Kingscote
The Kangaroo Island Gallery (est. in 1988) is in the heart of Kingscote, situated on the protected waters of Nepean Bay. Housed in a Council owned heritage listed building and only a short walk from the main street and seafront, it is easily located in Murray Street at the end of the Town Hall...
Rustic Blue
South Coast Road Vivonne Bay SA 5223
Telephone 0885597371
Rustic Blue
Vivonne Bay
Rustic Blue is a gallery of vibrant art, photography and objects. Rustic Blue represents a journey with nature. From the rustic red deserts of central Australia to the azure blue ocean of Kangaroo Island. Rustic Blue houses photography, fine art and objects that are created from the essence...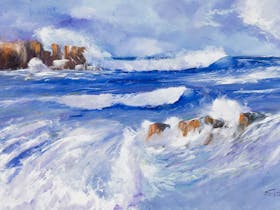 Sheps Studio Art Gallery
190A Bellmore Road Wisanger SA 5223
Telephone 0885532116
Sheps Studio Art Gallery
Wisanger
Sheps Studio Art Gallery showcases the artwork of Kangaroo Island artist, the late Neil Sheppard (alias Shep). Open by appointment. Closed Sundays. Original paintings and Limited Edition reproductions/prints are available for purchase. Shep was a very versatile artist, experimenting with many...
FLORA PRODUCTS...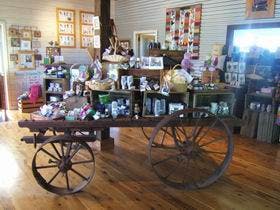 Emu Bay Lavender
75 HD Menzies Kingscote SA 5223
Telephone 0885535338
Emu Bay Lavender
Kingscote
Emu Bay Lavender is situated on the north coast of Kangaroo Island, 15 kilometres form Kingscote and just minutes from Emu Bay Beach. Emu Bay Lavender was established in 2002, the farm showcases 15 cultivars of English Lavender and has 9000 established plants. Along with the fragrant field of...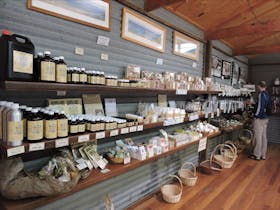 Emu Ridge Eucalyptus
Willsons Road Macgillivray SA 5223
Telephone 0885538228
Emu Ridge Eucalyptus
Macgillivray
Emu Ridge is a unique attraction where you can find out how a traditional Aussie bush product is made, they will show you the past and present process of eucalyptus oil distilling. Eucalyptus oil was Australia's first true export overseas and one of Kangaroo Islands major industries. Emu Ridge is...
Search & Book Accommodation

Kangaroo Island Gateway
Visitor Information Centre
PLEASE NOTE: Our Visitor Information Centre is temporarily closed. Please call the Toll Free number below if you require information. You can also contact us by filling out the form below. Our friendly staff at Kangaroo Island's only Accredited Visitor Information Centre will help you customise an itinerary as unique as you are to get the most from your time on Kangaroo Island.
Kangaroo Island Gateway Visitor Information Centre - Howard Drive, PENNESHAW SA 5222