Food & Cellar Doors
A natural microclimate!
Sumptuous and luxuriant, Kangaroo Island's Food and Wine is some of Australia's finest gourmet pleasures. Whether at one of the many restaurants, cafés, cellar doors or a farmers market, Kangaroo Island provides both gastronomic and visual feasts at every turn beautiful turn.
Kangaroo Island is fringed by fertile lands and rich waters so prepare to be amazed and delight in Kangaroo Islands freshly caught King George Whiting, oysters, sheep's cheese, marron, a rare variety of honey, and an exciting diverse range of award winning wines, beers, distilled spirits and liquors.
Need more information or wish to do a booking, please contact:
Kangaroo Island Gateway Visitor Information Centre
Phone: +61 8 8553 1185 or Toll Free: 1800 811 080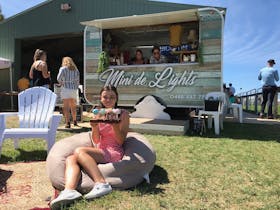 Mini de Lights
Dune road Emu Bay SA 5223
Telephone 0488447783
Mini de Lights
Emu Bay
Pop up Kitchen and bar set in a quirky caravan , located at Emu Bay - Kangaroo Island. Serving street food bites, desserts, coffee and cocktails. Sunset sessions on the beach with a bite to eat and with a drink to start or to finish the day. Check Instagram and Facebook for opening times....
Product does not exist!
(Check ATDW Product ID)
Search & Book Accommodation

Kangaroo Island Gateway
Visitor Information Centre
PLEASE NOTE: Our Visitor Information Centre is temporarily closed. Please call the Toll Free number below if you require information. You can also contact us by filling out the form below. Our friendly staff at Kangaroo Island's only Accredited Visitor Information Centre will help you customise an itinerary as unique as you are to get the most from your time on Kangaroo Island.
Kangaroo Island Gateway Visitor Information Centre - Howard Drive, PENNESHAW SA 5222