experience our produce...
Taste the unexpected.
Sumptuous and luxuriant, Kangaroo Island's produce is some of Australia's finest gourmet pleasures.
Kangaroo Island is fringed by fertile lands and rich waters so prepare to be amazed and delight in Kangaroo Islands freshly caught King George Whiting, oysters, sheep's cheese, marron and a rare variety of honey.
Clifford's Honey Farm
1157 Elsegood Road Haines SA 5223
Telephone 0885538295
Clifford's Honey Farm
Haines
Clifford's Honey Farm is Dave and Jenny Clifford's family business with three generations currently working at the farm situated at Elsegood Road, Haines, Kangaroo Island. Dave started with a couple of hives as a hobby in 1973. During the late 1980's when the wool prices dropped, Dave and Jenny...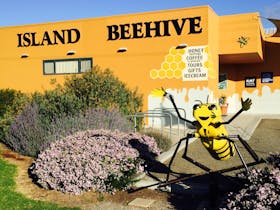 Island Beehive
59 Playford Highway Kingscote SA 5223
Telephone 0885530080
Island Beehive
Kingscote
Visit Island Beehive to learn about Ligurian Bees. Kangaroo Island was declared a sanctuary for this docile bee in 1885 in order to protect the bee's purity. See the production factory, take a guided tour, and enjoy free tastings of organic honey. Enjoy delicious scones in the cafe and visit the...
Product does not exist!
(Wrong Product ID)
The Oyster Farm Shop - Kangaroo Island Shellfish
Tangara Drive American River SA 5221
Telephone 0885537122
The Oyster Farm Shop - Kangaroo Island Shellfish
American River
Discover our working oyster farm and farmgate on Kangaroo Island! Situated in the picturesque town of American River, our farm-gate showcases the freshest local oysters on the Island plus local aquaculture and sustainable seafood including; Pacific Oysters, Native oysters, Wild Marron, Abalone, ...
Search & Book Accommodation
CLICK HERE to send a message to the
Kangaroo Island Tourism Food Wine Beverage Association