Food & Cellar Doors
A natural microclimate!
Sumptuous and luxuriant, Kangaroo Island's Food and Wine is some of Australia's finest gourmet pleasures. Whether at one of the many restaurants, cafés, cellar doors or a farmers market, Kangaroo Island provides both gastronomic and visual feasts at every turn beautiful turn.
Kangaroo Island is fringed by fertile lands and rich waters so prepare to be amazed and delight in Kangaroo Islands freshly caught King George Whiting, oysters, sheep's cheese, marron, a rare variety of honey, and an exciting diverse range of award winning wines, beers, distilled spirits and liquors.
Need more information or wish to do a booking, please contact:
Kangaroo Island Gateway Visitor Information Centre
Phone: +61 8 8553 1185 or Toll Free: 1800 811 080

CAFES, CATERING, FOOD VANS & RESTAURANTS...
Andermel Marron
804 Harriet Road Parndana SA 5220
Telephone 0885594128
Andermel Marron
Parndana
Marron - the island's prized freshwater crayfish - doesn't come any fresher. Visitors can take a tour of the marron shed and have tastings of our wines and sauces before partaking of a fine meal in the cafe. Flavours such as lemon myrtle, aniseed myrtle, (grown on our property), local Kangaroo...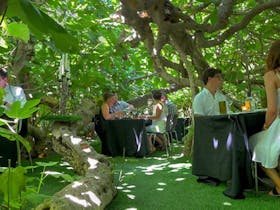 Hannaford and Sachs Catering Specialists
5997 North Coast Road Middle River SA 5223
Telephone 0885592236
Hannaford and Sachs Catering Specialists
Middle River
This fairy tale-like experience is set under the boughs of an ancient fig tree that is over 150 years old. The gnarled branches of the fig tree dip to the ground, then grow upwards again, creating 'rooms' of living growth. The dappled light peeping in through the broad leaves will make you feel...
Hanson Bay Wildlife Sanctuary Cafe
7797 South Coast Road Karatta SA 5223
Telephone 0885597344
Hanson Bay Wildlife Sanctuary Cafe
Karatta
The Hanson Bay Wildlife Sanctuary Café was completed in 2011 and offers information, meals and snacks, drinks, souvenirs and barista made coffee. The café is open from 8am until late evening throughout spring and summer and 9am until 5pm during autumn and winter. You will also find provisions...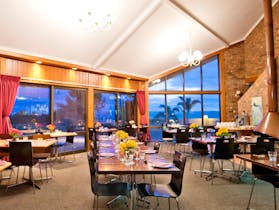 Kangaroo Island Seaside Inn Restaurant
7 Cygnet Road Kingscote SA 5223
Telephone 0885532707
Kangaroo Island Seaside Inn Restaurant
Kingscote
The Kangaroo Island Seaside Inn is a small family run business. The restaurant has a cosy, intimate ambience with a forever changing menu designed by one of the island most experienced local chefs. The restaurant is located one kilometre out of the town centre and is a bit small and hidden...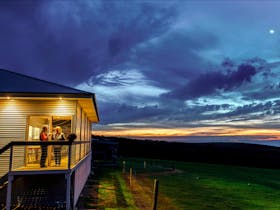 Kangaroo Island Source
90 Cape Willoughby Road Penneshaw SA 5222
Telephone 0412194840
Kangaroo Island Source
Penneshaw
Kangaroo Island Source specialises in gourmet food production, private and event catering and cooking classes which connect visitors with the abundance of the region. To experience the truly authentic flavours of Kangaroo Island, we provide catering from a casual barbecue, formal degustation...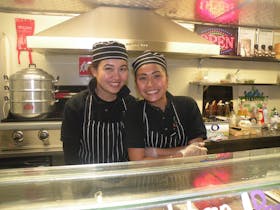 Kangaroo Island Tru Thai
148 Old Salt Lake Road Haines SA 5223
Telephone 0408848211
Kangaroo Island Tru Thai
Haines
Kangaroo Island Tru Thai is a wonderful authentic Thai food restaurant on Kangaroo Island. Using fresh Kangaroo Island produce prepared and cooked by Thai Chefs from North east Thailand and an extensive menu using,Pork,Lamb,Seafood,Chicken and fresh vegetarian options catering for all needs .Now...
Penneshaw Hotel
Lot 17 North Terrace Penneshaw SA 5222
Telephone 0885531042
Penneshaw Hotel
Penneshaw
The Penneshaw Hotel on Kangaroo Island has commanding and uninterrupted views over Backstairs Passage with absolute water frontage from a cliff-top. Country hotel hospitality is the theme and the newly completed spacious tiered outdoor dining and bar area offers unsurpassed opportunities to enjoy...
Reflections Restaurant
73 Scenic Drive American River SA 5221
Telephone 0885537053
Reflections Restaurant
American River
Reflections Restaurant is an a-la-carte dining experience offered by Mercure Kangaroo Island Lodge. Executive chef Andy Waterhouse creates menus unrivalled on the Island which incorporate local Kangaroo Island produce as it changes with the seasons. The dining experience is complimented by...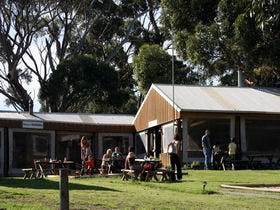 Seal Bay Cafe
22 South Coast Road Seal Bay SA 5223
Telephone 0885596115
Seal Bay Cafe
Seal Bay
Seal Bay Cafe is a licensed restaurant, serving a wide variety of meals. Opened in 1990, the cafe serves breakfast, lunch and dinner, and everything from Fisherman's Baskets and pan-fried Haloumi cheese to Greek and chicken salads, hot dogs, chips, sandwiches and rolls. For people looking for...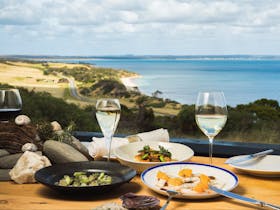 Sunset Food and Wine
4564 Hog Bay Road Kangaroo head SA 5222
Telephone 0885531378
Sunset Food and Wine
Kangaroo head
Sunset Food and Wine is a modern bistro which overlooks the beautiful American Beach.​ It was the first restaurant on Kangaroo Island to be awarded one Chef Hat from the Australian Good Food Guide in 2017 which it maintains today. ​ With access to so many quality local ingredients, we work...
The Chase Cafe
442 Cape du Coudeic Road Karatta SA 5223
Telephone 0885597339
The Chase Cafe
Karatta
The Chase Cafe, conveniently located at the Flinders Chase Visitor Centre, provides a welcome rest stop for visitors to the western end of Kangaroo Island. The alfresco dining area is nestled among the sugar gums adjacent to the children's fossil dig pit which provides entertainment for little...
Search & Book Accommodation

Kangaroo Island Gateway
Visitor Information Centre
Visit with our friendly staff at Kangaroo Island's only Accredited Visitor Information Centre and let us help you customise an itinerary as unique as you are to get the most from your time on Kangaroo Island.
Kangaroo Island Gateway Visitor Information Centre - Howard Drive, PENNESHAW SA 5222
Open: Mon - Fri 9am - 5pm, Weekends & Public Holidays 10am - 4pm, Closed Christmas Day.